Guido Sanguinetti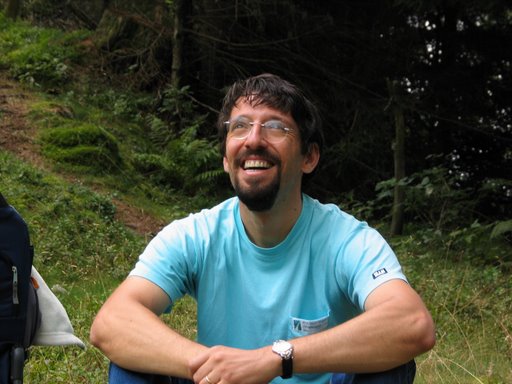 Research and PhD projects
Teaching
CV & Publications
Software Downloads
People
Other Interests

School of Informatics
Informatics Forum
10 Crichton Street
Edinburgh
EH8 9AB
Tel: +44 131 650 5136
Fax: +44 131 651 1426


email: G.Sanguinetti@ed.ac.uk

Welcome
I am a Reader in Machine Learning in the Institute for Adaptive and Neural Computation at the School of Informatics, University of Edinburgh. My interests focus on probabilistic modelling of biological systems, with particular emphasis on inference in dynamical systems. For more details of my research interests, including live projects and possible PhD projects, please see the research projects page. I'm also a potential supervisor on the newly funded EPSRC Centre for Doctoral Training in Data Science, see Data Science Ph.D. programme.

News
Some newly published papers
An up to date list of my publications can be found on Google Scholar.

Ezio Bartocci, Luca Bortolussi, Laura Nenzi and Guido Sanguinetti, System design of stochastic models using robustness of temporal properties, Theoretical Computer Science, in press

Van-Anh Huynh-Thu and Guido Sanguinetti, Combining tree-based and dynamical systems for the inference of gene regulatory networks, Bioinformatics, in press open access journal link

Tom R Mayo, Gabriele Schweikert and Guido Sanguinetti,M3D: a kernel-based test for spatially correlated changes in methylation profiles, Bioinformatics 31(6), 809-816, 2015, open access journal link.

Dan Benveniste, Hans-Joachim Sonntag, Guido Sanguinetti and Duncan Sproul, Transcription factor binding predicts histone modifications in human cell lines, Proc. Natl Acad. Sci. USA (PNAS), 111(37), 13367-13372, 2014, open access journal link. An accompanying webpage containing instructions to replicate the research can be downloaded here

David Schnoerr, Guido Sanguinetti and Ramon Grima, Validity conditions for moment closure approximations in stochastic chemical kinetics,J. Chem. Phys. 141 , 084103, 2014 journal link

David Schnoerr, Guido Sanguinetti and Ramon Grima, The Complex Chemical Langevin Equation, Journal of Chemical Physics, 141, 024103, 2014.journal link

Ezio Bartocci, Luca Bortolussi and Guido Sanguinetti, Data-driven Statistical Learning of Temporal Logic Properties, FORMATS 2014

Luca Bortolussi and Guido Sanguinetti, A statistical approach for computing reachability of non-linear and stochastic dynamical systems, QEST 2014

Anastasis Georgoulas, Jane Hillston and Guido Sanguinetti, Probabilistic Programming Process Algebra, QEST 2014

Gabriele Schweikert, Botond Cseke, Thomas Clouaire, Adrian Bird and Guido Sanguinetti, MMDiff: quantitative testing for shape changes in ChIP-Seq data sets, BMC Genomics 14:826, 2013, link
New paper in PNAS
Our new paper predicting histone modifications from transcription factor binding is out in PNAS here. The paper is significant, as there is a large amount of controversy on the importance of epigenetic modifications in gene regulation. Most of the evidence for this role was correlative based on bioinformati analyses; what we have done shows that similar bioinformatic analyses can also support a view where epigenetic modifications are a consequence of genetic (transcription-factor mediated) regulation. Even more remarkable about the paper, though, is the fact that its first two authors had not even started a PhD at the time of publication: Dan is an MInf studen, and Hans was working on a short project post-MSc with me and Duncan. Well done laddies!
Botond gets spotlight at NIPS!
Botond's paper "Approximate Inference in Latent Diffusion Processes from Continuous Time Observation" (joint with Manfred Opper and myself) is going to have a spotlight presentation at NIPS13. Only approx. 5% of submissions get spotlights, so very well done Botond!
Best paper award at QEST13
Luca Bortolussi's and my paper "Learning and designing stochastic processes from logical constraints" has been awarded the Best Paper Award at QEST13 (see press release by the University of Trieste here, in Italian). From my point of view, the interest of the paper is the attempt to perform learning directly from emerging properties of a stochastic process (in this sense, it is closely related to Botond's NIPS paper, item above).
Cozzarelli Prize 2012
Our PNAS paper "Point process Modelling of the Afghan War Diary" was awarded a Cozzarelli prize by the PNAS editorial board, an annual award to outstanding papers in the six main branches of the PNAS scope. Our paper won in the Engineering and Applied Science category. More details here
Arrivals and departures in the lab
Tom Mayo joined us as a PhD student from the Neuroinformatics DTC, working on epigenetic mechanisms in neuronal cells.

Van Anh Huynh-Thu recently joined us to work on my ERC project from the University of Liege, where she worked on network reconstruction with Pierre Geurts and Louis Wehenkel.

David Schnoerr joined us and Ramon Grima's lab as a PhD student, after a theoretical physics degree in Heidelberg on renormalisation group techniques.

Andrea Ocone submitted his thesis and is off to work in the Helmholtz Zentrum in Munich as a post doc with Fabian Theis.