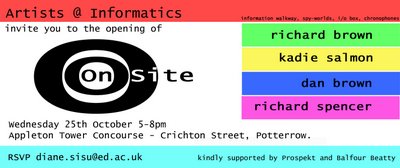 You are warmly invited to the Launch of the OnSite Exhibition.


5-8pm, Wednesday, 25th October, Appleton Tower Concourse, Appleton Tower, Crichton Street.


An audio tour around Potterrow using MP3 players will be available at the launch to give visitors an off-the-wall guide to the site's hidden past, present and future.


OnSite is a series of Arts and Informatics interventions on and around the building site of the new Informatics Building. It is a collaboration between the Edinburgh College of Art (ECA) and the School of Informatics.


The Onsite Project aims to engage with the public, the local community, the building contractors, the architects and the academics to help raise and challenge ideas about Informatics and Art, the new building, the history and future of Potterow.