K'ung Fu-tse
K'ung Fu-tse (Confucius, in Chinese) is a 3-masted ocean-cruising junk, designed and built by Tom Colvin for comfortable, independent, live-aboard cruising. Maximum time of self-sufficiency depends on fuel consumption and rainfall. Colvin single handed this vessel for over 3,000 miles on one voyage, and once cruised for 11 months without putting into port for fuel or water.
K'ung Fu-tse is Colvin's ultimate cruising vessel, the design of a veteran boatbuilder drawing on 40 years of cruising experience. Colvin's design philosophy is described in his book,Cruising as a way of life, Seven Seas Press, NY 1979. Available from Columbia Trading Company.
---
Length

48.5' (centreline of deck)
43.5' (stem to rudder stock)
52' (over rails)
Breadth

13.8' (outside of plating at deck edge)
14.3' (over rails)

Depth

4.4' (draught)
5.75' (tonnage deck to ceiling)
7.3' (deck to bottom of keel)

Registered Tonnage

28.57 gross, 21.56 net.
---
Life on deck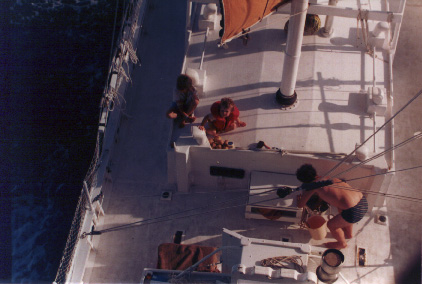 Wind-power charges the batteries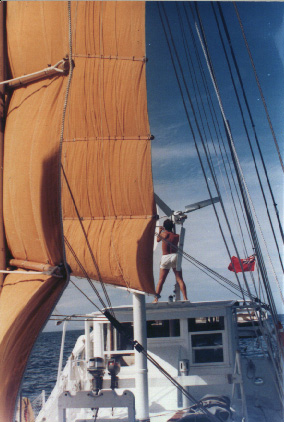 ---
Rig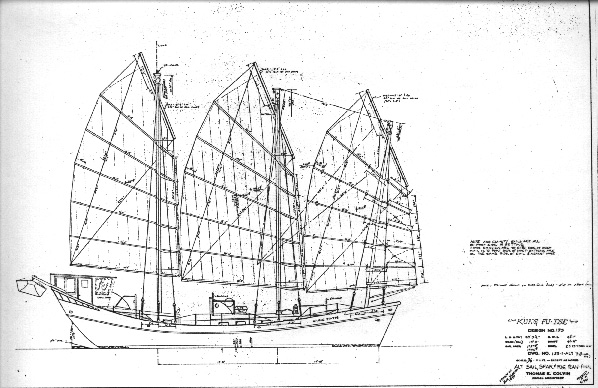 click for 600 dpi version (1.5 Mb)
All sails manually raised, and secured in pin rails. All rigging set up via deadeyes and lanyards. Once underway, all sail handling is done from abreast the pilot house. Aluminium masts and yards, grp battens and booms. Standing rigging: main and fore, stainless steel; mizzen galvanised iron, parcelled and served.
Working sails 1157 sq.ft. junk-rigged, on three masts: fore 344 sq.ft. main 426 sq.ft. mizzen 387 sq.ft.. Triple stitched, hand-roped. Light-weather topsail 249 sq.ft. and mizzen staysail
Accomodation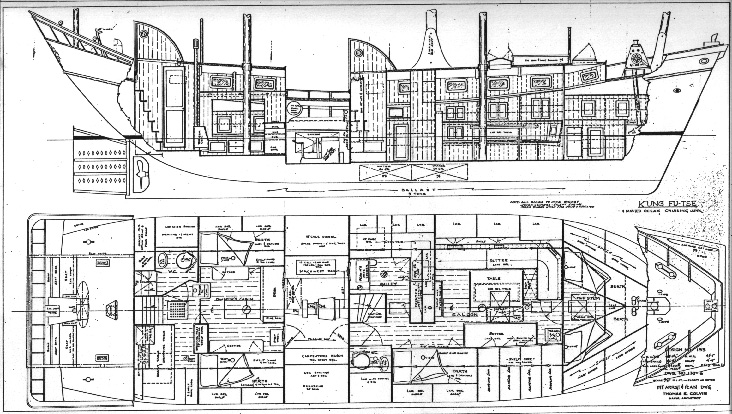 click for 600 dpi version (2.4 Mb)
This is the layout originally designed by Colvin. He made various modifications while living aboard KFT. The starboard berth in the aft cabin has been extended to form a full-sized double berth. The door to the aft heads has been altered to allow free access to the lazarette. This drawing also shows that KFT was originally designed as a four-masted junk, Colvin later changed to the three-masted rig shown above.
KFT now sleeps six in three cabins: twin berths forward, pilot berth midships, double and pilot berth aft. In addition, the saloon settee has a lee-cloth for use as an extra visitor's berth.
Sailing on K'ung Fu-tse (610K .au file from Tranquility: Diving with Dolphins)
I sail K'ung Fu-Tse with my family.
Aboard K'ung Fu-Tse
We collected KFT from Fort Myers, Florida in 1990 and sailed her back to Edinburgh with the following ports of call:
Cape Canaveral
Norfolk, Virginia
Greenport, Long Island, New York
Oban
Inverness, via Caledonian Canal
Fraserburgh
Since then our voyages have been less extensive
1992 Granton, Arbroath, Kirkwall (Orkney), Lybster, Fraserburgh, Peterhead, Granton.

Sailing to Orkney

(our new crew aged 3 months)

1995 Granton, Fidra, Eyemouth, Lindisfarne, N. Berwick, Granton.

In light airs

1996 Granton, Whitby, Sunderland, Blythe, Amble, Lindisfarne, Dunbar, Granton

Entering Dunbar

(the entrance is narrow, directly astern)
Sold
Circumstances (work and family) made us decide, with great regret, to sell KFT. She was sold in October 1998.