Michael O'Boyle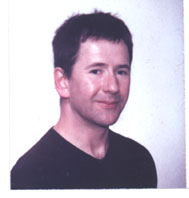 <!

PhD, University of Manchester, 1992
Email: mob at inf dot ed dot ac dot uk
Phone: 0131 650 5117
Fax: 0131 667 7209

School of Informatics

Institute for Computing Systems Architecture

King's Buildings

Mayfield Road

Edinburgh EH9 3JZ
Research Interests
The primary research question I am interested in is: how can compiler technology best exploit the potential of high performance architectures? My work involves developing new theory and optimisation techniques and then prototyping these ideas in experimental compilers. Compilers are one component in high performance computing and I am interested in their interaction with other components, most notably architecture design. My research interests include:

I am a member of the Compiler and Architecture Design Group and fom January 2001, hold an EPSRC Advanced Research Fellowship on Adaptive Compilation.

A list of my publications, selected papers and a brief biography

Steering Commitee CPC
Programme Commitee Member PACT 2004
Programme Commitee Member ICS 2004
Vice Programme Chair Compilers for High Performance, Europar 2004, Italy.
Programme Commitee Member ICS 2003
Vice Programme Chair Compilers for High Performance, Europar 2003, Austria.
Programme Committee Member IPDPS 2003

I am an honorary lecturer in the Department of Computer Science, University of Manchester and a member of the CNC.
Prospective PhD Students
I am interested in supervising PhD students in any of the above research areas. For further details, please use the contact information at the top of this page
---