!Converted with LaTeX2HTML 95.1 (Fri Jan 20 1995) by Nikos Drakos (nikos@cbl.leeds.ac.uk), CBLU, University of Leeds >
---



Next:
Rotation about optical
Up:
No Title
Previous:
Images of Planes
---
Original images (left and right)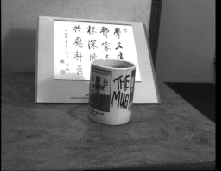 Transfer and superimposed images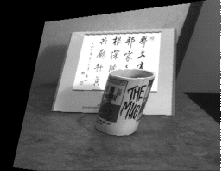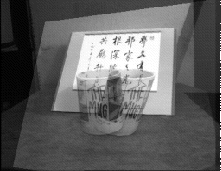 The ``transfer'' image is the left image projectively warped so that points on the plane containing the Chinese text are mapped to their position in the right image.
The ``superimpose'' image is a superposition of the transfer and right image. The planes exactly cooincide. However, points off the plane (such as the mug) do not cooincide.
This is an example of planar projectively induced parallax. Lines joining corresponding points off the plane in the ``superimposed'' image intersect at the epipole.
---
Bob Fisher
Wed Apr 16 00:58:54 BST 1997