!Converted with LaTeX2HTML 95.1 (Fri Jan 20 1995) by Nikos Drakos (nikos@cbl.leeds.ac.uk), CBLU, University of Leeds >
---



Next:
Related Reading
Up:
No Title
Previous:
How to Establish
---
Three points in 3-space define a plane
. The images of these points, together with the epipoles, provide the four correspondences necessary to compute the compatible transformation

for

. That is, the projective transformation

such that

transfers points coplanar with

. Given

it is then possible to distinguish points in 3-space on either side of
, using only their image projections and

i.e. a binary partition of 3-space.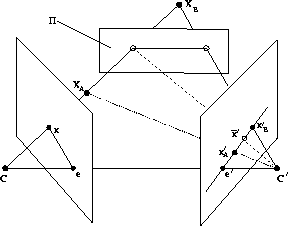 The three points need not actually correspond to images of physical points, the method can be applied to ``virtual'' planes.

Points contained in regions of 3-space can be identified using a set of binary space partitions for the planes which bound the region.
Original images and points


First and second images and corners
BSP 1


Selected planar points, on one side and on the other side
BSP 2


More selected planar points, on one side and on the other side
---
Bob Fisher
Wed Apr 16 00:58:54 BST 1997