Commercial
Actual Analytics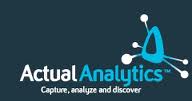 Headquartered in Edinburgh, Scotland, Actual Analytics is a leading provider of behavior analysis solutions for scientific studies. We are commited to creating high quality, accurate and easy to use solutions that our customers can depend upon.
Since our start as a research project at the University of Edinburgh in 2006, we have worked with some of the world's most respected academic institutions and pharmaceutical companies developing tailored solutions to meet their specific behavior analysis needs.
Our first products: ActualScore and ActualTrack, launched in November 2010 as the world's first online behavior analysis solutions. Score and Track provide affordable, easy-to-use and accurate scoring and automated tracking solutions to anyone, anywhere at anytime through their internet browser.
Actual started life solving problems we encountered in our lab where we developed iBehaveŽ, our patent-pending technology designed to automate the recognition of a large number of behaviors. In early 2010 we were backed by some of the UK's leading early stage investors allowing us to spin-out of the university and take our solutions to more labs than ever before. We now combine our tailored solutions with our online product range and are working with a growing number of both commercial and academic labs who love our easy-to-use, accurate and innovative behavior analysis solutions.
Brainwave-Discovery

Brainwave-Discovery [BWD] is a new company spinning out from the Universities of Edinburgh and Glasgow that provides new solutions and services to the CNS drug discovery industry.
Psychiatric and neurological disorders constitute 15% of the medical burden in developed countries yet there is a shortage of new drugs for these devastating, often long-term illnesses. Genome wide association studies (human genetics) are identifying hundreds of new candidate drug targets per indication per year. Prioritising these is a significant problem for the industry especially since current method of choice (transgenic mouse models) is slow, expensive and is coming under increasing ethical pressure from the market.
BWD technology combines BrainWave in vivo brain physiology (patent granted) with synthetic biology and automated behaviour assessment. This enables human target prioritisation within the fruit-fly Drosophila and the use of Drosophila assays in chemical screening. Brainwave offers custom services for target prioritisation followed up by in-licensing agreements for in vivo in-house compound screening.