!Converted with LaTeX2HTML 95.1 (Fri Jan 20 1995) by Nikos Drakos (nikos@cbl.leeds.ac.uk), CBLU, University of Leeds >
---



Next:
Example 2 -
Up:
No Title
Previous:
The Essential Matrix
---
If
and

are corresponding image points, then

i.e.

, where

is the

fundamental matrix of maximum rank 2.
Properties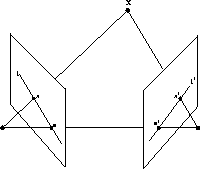 Epipolar lines:

is the epipolar line corresponding to , since .

is the epipolar line corresponding to , since .

Epipoles:

has 7 dof --- there are 9 matrix elements but only their ratio is significant, which leaves 8 dof. In addition the elements satisfy the constraint which leaves 7 dof.

depends only on the direction of translation (unaffected by the magnitude of translation).
Example 1: Pure translation of a `fixed' camera

,

, then

has only 2 dof corresponding to the position of the epipole.
Points lie on their corresponding epipolar line drawn in the same image, since , and . This is termed `auto-epipolar'.
Points appear to move along lines radiating from the epipole. The epipole in this case is termed the Focus of Expansion (FOE).



Connection with vanishing points The epipole is the vanishing point of the translation direction.

Example - pure translation continued If the camera translation is parallel to the x axis, then
From


So that

, i.e. the epipolar lines are corresponding rasters.
---
Bob Fisher
Wed Apr 16 00:58:54 BST 1997