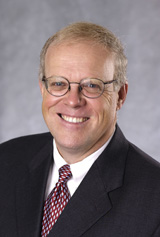 Professor John Hennessy, erstwhile Director of the Computer System Laboratory, now President, of Stanford University will receive an Honorary Degree from the University of Edinburgh on Wednesday 30th November.
Professor Hennessy will then visit the Institute for Computing Systems Architecture, within the School of Informatics, and will give a public lecture on the the Future of Microprocessor Architecture.
Title: The Future of Microprocessor Architecture
Venue: Swann Lecture Thetre Kings Buildings
Time: 16:30

Prof. Hennessy led the RISC (Reduced Instruction Set Computer) team at Stanford in the early 1980s and was a cofounder, in 1984, of MIPS Computer Systems, now MIPS Technologies.
He is a recipient of the 2000 John Von Neumann Medal, the 2000 ASEE R. Lamme Medal, the 2001 Eckert Mauchly Award and the 2001 Seymour Cray Award. He is a member of the National Academy of Engineering and the National Academy of Sciences, and he is a fellow of the American Academy of Arts and Sciences, the Association for Computing Machinery, and the Institute of Electrical and Electronics Engineers.