Elisabeth Smalt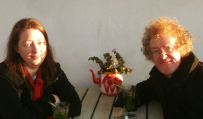 Good afternoon and welcome everybody. I am Elisabeth, Bob's partner. His son Ben, his brother Stephen and I have prepared this ceremony for you, with contributions by our friends Janneke and Michiel of the Prisma String Trio and Alfrun of Trio Scordatura. We have asked the composer Frank Denyer, a lifelong friend of Bob, to speak as well.
I would like to thank you all for coming. Some of you came from far and even crossed oceans to be here. The outpouring of grief of hundreds of people from all over the world made us realise that it was not only us who loved Bob, but many more people. This is such a great gift and consolation for us, and we thank you all for that.
I feel privileged to have been at Bob's side for 14 years, and grateful for the love that was always there between us, and that has given us strength to endure the difficult period of Bob's illness. It has been 14 years full of music, happiness, love, fun, and friends, of whom I see so many gathered here today.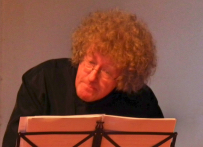 I would like to say a few words about our life together. Fourteen years ago, as a younger viola player, I was very keen to find new and unknown pieces to play. I had read about a composer named Harry Partch who had written songs for a strange hybrid viola notated in a secret code, but I couldn't find any explanations. When I happened to be in Dartington in England for a recording of Frank Denyer's music I met this man with lots of red hair who was a Harry Partch expert. His name was Bob Gilmore. I found the courage to ask him if he could help me to play this music. It turned out that he was delighted to find a viola player interested in Partch, and he immediately started to copy material for me. We started to mail each other regularly. This grew to be our first big project together.
Those of you who have had mail exchanges with Bob know that he was a master-mailer. With this elegant and perfectly clear language, funny, serious and lighthearted at the same time, I found his mails irresistible and I soon mailed back every day just in order to get another of these wonderful emails. Then one day I found in my postbox a real letter on paper and written by hand. It was a love letter. At that point there was no turning back: I was in love and Bob was in love with me.
We embarked on a journey with music at the glorious centre of our lives. Bob brought me in contact with composers I had never heard of, and made me play the weirdest pieces that soon became my favourites, such as the piece of Radulescu that I will play for you. We loved travelling together, to where I played a concert, to where Bob wanted to hear a concert, to visit composer friends, or to research a book. We supported each other's projects. Bob loved company, our house was often full of guests. We also founded Trio Scordatura, with singer Alfrun Schmid, because Bob decided he wanted to be a performer, in order to make music and not just to write about it. Our trio has given me so much pleasure and satisfaction. Bob could create a special atmosphere around him, in which exploring new territories in music was one big exciting adventure. Even if the music was difficult, we laughed so much, almost like children. Bob had on me always the effect of champagne: a feeling of light happiness.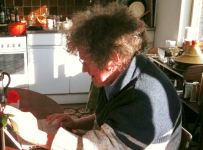 Once Bob said to me: 'I know I have much to give to the world. When I believe in something, I can generate an endless amount of energy. But I need the freedom to do it'. Sometimes he was stopped in his flow by small-minded pettiness or bureaucracy. Then he would shrug and turn away. The project was abandoned, his heart was not in it anymore. He knew he could only make things happen when others would allow him to go ahead in his own Bob-like way. Not always people understood this vulnerability in him.
In Trio Scordatura, Bob declared that we were not a democratic ensemble. Bob decided and organised everything according to his wishes. In doing that, he gave us unforgettable adventures in the world of music. In our relationship it became a priority for me to free the way for Bob's energy and his ideas, I wanted him to do what he had to do and to support him in that. And Bob did the same for me.
Bob was very generous in passing on his knowledge to all who asked for it. He was a natural educator and his students, first at Dartington and later at Brunel University, worshiped him. Often I came home to find a young person, feverishly copying recordings from Bob's computer. Also I myself learned so much from him, and not only about new music. One of the first questions he asked was: 'do you like Berlioz?'  I confessed that I didn't know his music that well, and that Harold in Italy was not my favourite piece. 'What?' he cried out, 'this is unacceptable, he is my favourite composer'! He then urged me to listen to the piece together with him and to exchange thoughts about it and discuss them. He gave me a big two-volume biography to read, he bought the sheet music of the songs and we bashed several evenings through them, him sightreading on piano, and me trying to sing the voice part or to play it on the viola. After this vast amount of Berlioz indoctrination, I loved Berlioz. I have seen him applying the same process to his students and saw how he changed their musical perceptions and, I believe, their lives as well.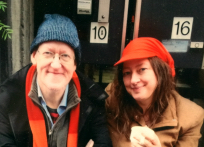 In September 2012 Bob was diagnosed with cancer and our world collapsed. The doctor said that the prognoses were a life between one and four years. We were devastated. His biggest concern was Ben, who would have no father anymore. But Bob's wonderful character showed then once more; while suffering from all those worries and from the chemotherapy he managed to finish his Claude Vivier Biography. We eventually recovered from the shock and got used to our new life after the diagnosis. Bob got a new job at the Orpheus Institute in Ghent which was easier to travel to, and he also became the Editor of Tempo Magazine, which he could do at home. Time had become so precious for us that simply being able to be together and working in the same room would make us happy. Bob did all the treatments but didn't talk much about the disease, and neither did I. He didn't want the disease to take over our lives, music should be first. Maybe that explains why some of you didn't realise how seriously ill he was. In the last two months, Bob was sick every night and day and he never complained. He was mentally strong and that made it easier for me, and for Ben, to be strong as well. He insisted to go on with his work in Ghent, his last visit there was just a few days before Christmas. At home he worked on his radio documentaries. In the evenings he worked under the lamplight with his neat and small handwriting on an arrangement for my string trio, of which you will later hear a few. It was a gift from him to me.
Bob had still so many plans but has not had the time to realise them, and I feel that is a loss for the world. Last November we travelled to Madrid to interview Kevin Volans, about whom Bob was planning to do a biography. Now, this and other projects remain undone. Luckily we have the radio documentaries that he made at home with his last forces. The series 'Tentative Affinities' is available for free on his website and on iTunes.
In the end, the hospital ran out of a medication that worked. Then the disease took over like a wave, and it all went very fast. On New Year's Eve the ambulance came. He was taken to a hospice, and Ben, Stephen and me stayed with him taking turns. The second night I was at his side, and we listened to music. I had chosen for the songs of Berlioz, and they seemed to calm him down. He was on an oxygen machine. The machine made a sound like: okayyyy, okayyyy. I said aloud: 'okay'. Then I suddenly heard Bob say: 'okay?' I said 'yes, it's okay'. That were the last words we exchanged. He was slowly drifting away into his own world. Then the soft breathing became slower and slower. There was a last one and it was quiet... deeply quiet. He had passed away. I will cherish this memory forever as a mystical moment of utter peacefulness, there was no sadness anymore.