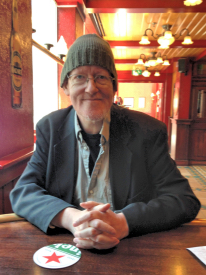 Bob's funeral was held on 7th January 2015 in Uitvaartcentrum Watergraafsmeer, Zaaiersweg 2, 1097 ST Amsterdam.
Musicians:
Benjamin Marquise Gilmore, viola
Janneke van Prooijen, violin
Alfrun Schmid, voice
Elisabeth Smalt, viola
Michiel Weidner, cello
intro: Donnacha Dennehy — Grá agus Bás (2011) [love and death]. Recording (fragment) by Crash Ensemble, voice: Iarla O'lionáird
Horatiu Radulescu — Lux Animae (1996 — 2000) [the light of the soul] for viola solo
Benjamin Marquise Gilmore speaks
Darius Milhaud — La muse ménagère (1944) [The household muse] arranged by Bob Gilmore for Prisma String trio
La mienne [my own]
Le chat [the cat]
La cuisine [cooking]
La poésie [poetry]
Harry Partch from Li Po songs (1931):
The Intruder
On Hearing the Flute at Lo-Cheng One Spring Night
Claude Vivier — Tao tao tao (1978). Recording. The closing aria from Act 1 of Vivier's opera Kopernikus arranged by Bob Gilmore for Trio Scordatura.
exit: Hector Berlioz. Recording. Songs for voice and piano.