We are pleased to announce that Dr. Subramanian Ramamoorthy will be joining the School as a Lecturer, in September this year.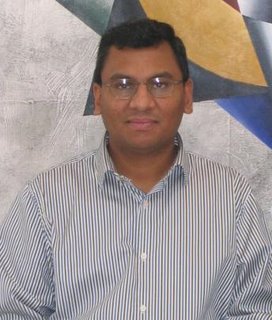 Ram comes to us from the Intelligent Robotics Laboratory at The University of Texas at Austin, where he recently obtained his PhD in Electrical and Computer Engineering, under the supervision of Prof. Benjamin Kuipers. Previously, he graduated with an ME degree from the University of Virginia in 1999, and a BE from Bangalore University in 1996.
From 1999 to 2007, Ram was a member of the research and development team at National Instruments Corp. in Austin, Texas, working in the areas of computer vision, motion control and dynamic simulation.
He is primarily interested in the use of intelligent computing and machine learning to solve problems involving complex dynamical systems. He has made contributions to robotics and autonomous agent design. He is also interested in using similar techniques to address questions involving integrative and systems approaches to biology.
Labels: 2007, appointment, arrival, lectureship, robotics