Informatics welcomes Peter Higgs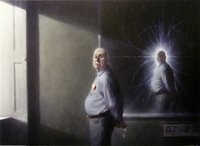 Peter Higgs was the first student of Christopher Longuet-Higgins, one of the forefathers of Informatics at Edinburgh.
The School is delighted to host Peter's recent portrait by Ken Currie. The portrait will hang in the Forum for the next few months, until it moves to its permanent home in the James Clerk Maxwell Building.
Mark Steedman and David Willshaw were also students of Longuet-Higgins.
Labels: art, forum, Ken Currie, peter higgs, portrait