Home
Research
Publications
Videos
Teaching
Outreach
Contact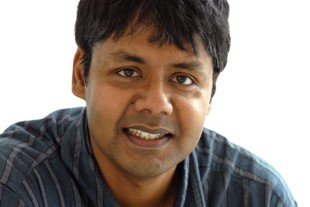 Professor Sethu Vijayakumar FRSE holds a Personal Chair in Robotics and is the Director of the Institute of Perception, Action & Behavior (IPAB) in the School of Informatics at the University of Edinburgh. Since 2007, he is the Microsoft/Royal Academy of Engineering Senior Research Fellow in Learning Robotics. He also holds additional appointments as an Adjunct Faculty of the University of Southern California(USC), Los Angeles, a Visiting Research Scientist at the ATR Computational Neuroscience Labs, Kyoto-Japan and the RIKEN Brain Science Institute, Tokyo. He has a Ph.D.('98) in Computer Science and Engineering from the Tokyo Institute of Technology. Prof. Vijayakumar previously held the position of Reader (2007-2010) and Lecturer (2003-2007) at the University of Edinburgh, a Research Assistant Professor ('01-'03) at USC and a Staff Scientist ('98-'00) at the RIKEN Brain Science Institute. His research interest spans a broad interdisciplinary curriculum involving basic research in the fields of robotics, statistical machine learning, motor control, planning and optimization in autonomous systems and computational neuroscience. See here for a list of his publications. Sethu is a keen science communicator and in recent years, has been active in conceptualising, producing and presenting several public outreach events to engage with the general public and children on all things science and engineering. He is a Fellow of the Royal Society of Edinburgh.


June 2014: Our paper 'Robots Driven by Compliant Actuators: Optimal Control under Actuation Constraints' has been awarded the 2013 IEEE Transactions on Robotics Best Paper Award [News][Paper][IEEE site]


Nov 2013: To complement our Centre for Excellence in Robotics at Edinburgh, we have been awarded an EPSRC Centre for Doctoral Training (CDT) in Robotics and Autonomous Systems to train over 65 PhD students in the area, in conjunction with Heriot-Watt University. [News] [Prospective PhD Students apply here]


Aug 2013: We have secured a £6.1M investment from EPSRC to establish a Centre for Excellence in Robotics at Edinburgh, in collaboration with Heriot-Watt University. [news] [EPSRC announcement]


Winter 2012: I delivered the Alan Turing Centenary Lecture as part of Science Alive Hong Kong organized by British Council, Hong Kong Education Bureau and Hong Kog Science Museum. [link]


Conferences: We hosted the International Conference on Machine Leaning (ICML 2012) in Edinburgh. I was the Area Chair for Robotics: Science and Systems (R:SS 2013) in Berlin (June 24-28), having served as the Area Chair last year for the previous edition (R:SS 2012) held in Sydney and the Silver Jubilee Edition of the Neural Information Processing Systems (NIPS 2012) in Lake Tahoe.


Recent Invited Talks / Tutorials: I delivered keynote lectures at the Summer School on Variable Impedance in Germany and the CMCW motor control meeting in Ben-Gurion University, Israel. Jul 2012: I also gave a tutorial on Machine Learning for Robotics in the Robotics: Science and Systems (R:SS 2012) conference in Sydney.


2012: Our research has been featured on the EPSRC website [1,2], on the BBC Bang Goes the Theory programme and on the British Council Research webpages. More on media coverage and the outreach activities here including the inaugural lecture of Edinburgh International Science Festival 2009 with ASIMO!


2007: I have been awarded the Microsoft/Royal Academy of Engineering Senior Research Fellowship.


Check out our new home since June 2008: The Informatics Forum, in the Edinburgh Inspiring Capital video.


Details of my research group, the Statistical Learning & Motor Control (SLMC) lab can be accessed here.






Selected Publications (for full list, see here)
David Braun, Florian Petit, Felix Huber, Sami Haddadin, Patrick van der Smagt, Alin Albu-Schäffer and Sethu Vijayakumar, Robots Driven by Compliant Actuators: Optimal Control under Actuation Constraints, IEEE Transactions on Robotics (IEEE T-RO), 29(5), pp. 1085-1101 (2013). [pdf] [2013 IEEE Transactions on Robotics Best Paper Award]

Konrad Rawlik, Marc Toussaint and Sethu Vijayakumar, On Stochastic Optimal Control and Reinforcement Learning by Approximate Inference, Proc. Robotics: Science and Systems (R:SS 2012), Sydney, Australia (2012). [pdf] [R:SS 2012 Best Paper Award Runner-up]

Sethu Vijayakumar, Aaron D'Souza and Stefan Schaal, Incremental Online Learning in High Dimensions, Neural Computation, vol. 17, no. 12, pp. 2602-2634 (2005). [pdf] [LWPR software] [see next for usage guide]