Home
Publications
Research Group
Research Videos
Outreach
Contact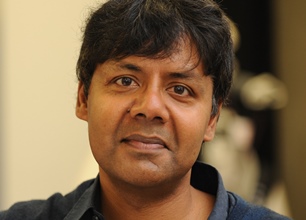 Professor Sethu Vijayakumar FRSE holds a Personal Chair in Robotics within the School of Informatics at the University of Edinburgh and is the Director of the Edinburgh Centre for Robotics and Programme co-Director for AI at The Alan Turing Institute, helping shape and drive the UK national agenda in Robotics and Autonomous Systems. Since 2007, he holds the Senior Research Fellowship of the Royal Academy of Engineering, co-funded by Microsoft Research and is also an Adjunct Faculty of the University of Southern California (USC), Los Angeles and a Visiting Research Scientist at the ATR Computational Neuroscience Labs, Kyoto-Japan. He has a PhD (1998) in Computer Science and Engineering from the Tokyo Institute of Technology. Prof. Vijayakumar previously held the position of the Director of IPAB (2005-2015), Reader (2007-2010) and Lecturer (2003-2007) at the University of Edinburgh, a Research Assistant Professor (2001-2003) at USC and a Staff Scientist (1998-2000) at the RIKEN Brain Science Institute, Tokyo. His research interest spans a broad interdisciplinary curriculum involving basic research in the fields of robotics, statistical machine learning, motor control, planning and optimization in autonomous systems and computational neuroscience. One of his flagship projects (2016) involves a collaboration with the NASA Johnson Space Centre on the Valkyrie humanoid robot being prepared for unmanned robotic pre-deployment missions to Mars. See here for a list of his publications [Google Scholar]. Sethu is a keen science communicator [see one of his TED talks ] and in recent years, has been active in conceptualising, producing and presenting several public outreach events to engage with the general public and children on all things science and engineering. He is a Fellow of the Royal Society of Edinburgh and the winner of the 2015 Tam Dalyell Prize for Excellence in Engaging the Public with Science. He was a judge on the latest edition of BBC Robot Wars, a hugely popular technology show as well as involved with the launch of the BBC micro:bit coding initiative.

UKRI Robotics and Artificial Intelligence (RAI) Hubs and EU Projects: We are involved in three EPSRC funded RAI hubs; as coordinator of ORCA(Offshore Robotics for Certification of Assets), focusing on the real world challenges in the Offshore and partners in Space (FAIR-SPACE) and Nuclear (NCNR) domains -- with overall investment of over &pound32M across our academic partners (Heriot-Watt, Oxford, Imperial, Surrey, Liverpool etc.). Also check out exciting EU Project Memmo(Memory of Motion) focusing on Machine Learning techniques for warm starting planning and control of complex anthropomorphic robotic systems. More details here and open positions below.


Postdoctoral Researchers: We are always looking for Postdoctoral Fellow candidates who have a PhD (or submitted), with a world leading track record in the areas of motor control (robots, prosthetics and exoskeletons), real-time, multi-contact motion planning, humanoid and quadruped locomotion, shared autonomy interfaces and optimal control in dynamic environments. We are also hiring Software and Hardware Engineers with skills in hardware and software maintenance. Get in touch and find latest details here.


Studentships: Are you passionate about Robotics? Interested in a fully funded PhD with us on topics such as Machine Learning for Robotics, Humanoid and Anthropomorphic Robot planning, sensing and control, Prosthetics and Human Motor Control? Would you like to work on exciting robotic platforms such as the PAL Humanoid and ANYmal Quadruped platforms? [Prospective PhD Students apply here -- fully funded 4-year studentships]


Outreach:Please look at my Outreach and Media pages for public engagements, keynotes and media coverage.


Details of my research group, the Statistical Learning & Motor Control (SLMC) lab can be accessed here.
Selected Publications (for full list, see here)